Hebron Mayor Khaled Osaily and Mr. Mario Margini,  Deputy Mayor of Genoa (Italy) signed on the 4th of December 2011 a Water  and Wastewater Sector Project Agreement with a view to improving  Hebron's water situation, developing its water networks and enhancing  the quality of services provided to inhabitants with a total cost of 2.8  million euros.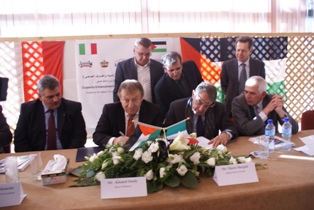 Hebron Mayor Khaled Osaily and Mr. Mario Margini, Deputy Mayor of  Genoa (Italy) signed on the 4th of December 2011 a Water and Wastewater  Sector Project Agreement with a view to improving Hebron's water  situation, developing its water networks and enhancing the quality of  services provided to inhabitants with a total cost of 2.8 million euros.
The  Agreement was signed at the Project launching ceremony held at the  Municipality's Child Happiness Center with the participation of the  Undersecretary of Local Government Mr. Mazen Ghneim, Hebron Governor Mr.  Kamel Hamid, Antonio Laroka, Director of the Palestinian  Municipalities' Support Project implemented by Italy, Mr. Khalil Al  Ghabbish, Director of the West Bank Water Department as well as numerous  officials and eminent personalities from Hebron Government.
In  his opening speech, Osaily welcomed his guests and addressed his thanks  to the Italian Government and people for their support of Palestinians  in general and of Hebron in particular. He spoke about the Remote  Control System for the Hebron Water Network which was implemented with  Italian support and which constitutes a true example of model  cooperation. "We look forward to further our cooperation with Italian  Municipalities with which we have twinning agreements and enjoy unique  partnerships which have led to effective cooperation and achievements.  This could not have been done without the solidarity of the Italian  people, their support of Palestinian rights and their desire to improve  the life of Palestinians and to alleviate their suffering", he said.
Osaily  also spoke about the Solid Waste Management Project in Hebron and  Bethlehem Governorates implemented through the Higher Joint Council.  "This is a qualitative partnership between local councils in Hebron and  Bethlehem Governorates. Other environmental joint projects shall be  executed in cooperation with the Italian Cooperation through the Higher  Joint Services Council for the Treatment of Solid Waste", he added.
Mr.  Ghneim then took the floor. "I am very happy about the launching of  this vital and strategic project. It shall aim at developing and  enhancing water and wastewater management capacities in Hebron and shall  greatly improve the level of services provided to inhabitants", he  said.
In his speech, Governor Hamid conveyed the condolences of  President Abbas, the Palestinian leadership, Palestinians in general and  Hebronites in particular to the Mayor of Genoa who was unable to attend  the ceremony due to the floods and storms in her city which led to  several deaths. He also thanked the Italian Government and people,  urging them to continue their support of Palestinians and their  leadership and to back their bid for full membership of the UN. Hamid  spoke about achievements made in Hebron and thanked its Mayor, Municipal  Council members and municipal staff for their efforts and achievements.  "They set an example to be followed by other cities and  municipalities", he added.
Mr. Margini spoke about the importance  of water in securing decent living conditions and the will to cooperate  with Hebron Municipality in this field. This would help draw a smile on  children's faces, he said, wishing the project all success. "There is  deep friendship and cooperation between the two municipalities. We shall  continue our cooperation through a number of future projects which  shall constitute a bridge between both nations as well as between the  inhabitants of Hebron and Genoa", he said.
Mr. Laroka spoke in  detail about the project. "The Italian Government shall provide support  to the project for hospital-generated waste management. Another project  is supported by the Italian Consulate in cooperation with Palestine  Polytechnic University with a view to developing marble and stone  industries. We hope that other projects in the fields of Old City  culture and heritage will be implemented in the near future. Hebron  occupies a special place in our hearts, and these projects shall enhance  friendship between Italy and Palestine", he said.
At the end of  the meeting, Mr. Al Ghabbish explained why this project is so important.  "It helps improve the management of water which is a rare commodity in  Palestine given that Israel controls Palestinian water resources. Such a  project would limit the crisis caused by the lack of water needed by  Hebron inhabitants", he said.
Following these speeches, two  children from Hebron offered a symbolic gift to the Italian guests in  recognition of efforts made by Genoa Municipality to treat their complex  medical condition at an Italian hospital, with all costs covered by  Genoa Municipality, at the request of Hebron Mayor and in line with the  Twinning Agreement signed by the two municipalities.
It is to be  noted that Mr. Margini promised to ensure the treatment of other  children whose medical files have been submitted to Italian hospitals.